'68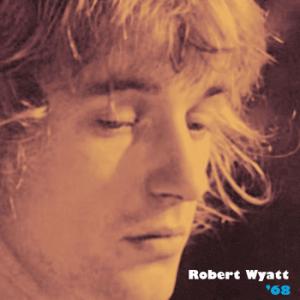 Tracklist
1
Chelsea
5:00
Notes:

Kevin Ayers - Written By
Robert Wyatt - Written By

2
Rivmic Melodies
18:17
Notes:

Robert Wyatt - Written By

3
Slow Walkin' Talk
3:00
Notes:

Brian Hopper - Written By

4
Moon In June
20:33
Notes:

Robert Wyatt - Written By
Credits
Mike Ratledge - Lowrey organ (second half of Moon In June)
Jimi Hendrix - bass (Slow Walkin' Talk)
Hugh Hopper - bass (second half of Moon In June)
Robert Wyatt - vocals, piano, electric piano, Hammond organ, bass, drums, percussion
Notes
"After a half a dozen listens I am convinced this is of the very best archival releases EVER.
The creativity was pouring out of RW at that time and the freedom he had doing these demos reveal a sense of freshness that is really exciting – also there is a feeling of warm intimacy like we get to be the fly on RW's studio wall in 1968 - the interview is amazing too.
Do not miss this."–Udi Koomram
"Some have called this - the complete set of Robert Wyatt's solo recordings made in the US in late 1968 - the ultimate Holy Grail. Half of the material here is not only previously unreleased - it had never been heard, even by the most dedicated collectors of Wyatt rarities."–Aymeric Leroy, author and historian of the 'Canterbury Scene'.
"A stunning archival release that sheds new light on early Soft Machine. A must-have for Softs fans"–Sid Smith, journalist
For over 45 years, Robert Wyatt has been a major, creative force in music, having had a major impact on the beginnings of both psychedelic rock and jazz/rock in the UK with Soft Machine, to his eventual long solo career as a unique singer/songwriter.
In September, 1968, the Soft Machine had just finished their second, exhaustive tour of the USA supporting the Jimi Hendrix Experience. At the conclusion of the tour, vocalist/drummer/multi-instrumentalist Robert stayed, working on recordings in Hollywood and New York City.
Upon Robert's return to England to re-start the Soft Machine in December, 1968, these documents lay forgotten. Two of them were eventually found and issued, but half of these recordings were unreleased and thought lost forever...
Now, for the first time, all four of the recordings Robert made in '68 'are collected together and released, all carefully worked on and presented in the best possible sound quality – and the recorded sound here is surprisingly excellent overall!
This release is fully authorized by Robert and the liners include an in-depth interview with Robert about his recollections of this period, with insights into his songwriting process, recording procedures and previously untold anecdotes of this period of his work and life.
There are four tracks. Two of the demos are shorter songs. Of these, one of them was a track Robert used to play with the Wilde Flowers, Brian Hopper's Slow Walkin' Talk, while the other features music that would later be re-worked by Robert and appear on the 1st album by Matching Mole!
The bulk of the material - the two long suites - were later re-recorded by the Soft Machine; Rivmic Melodies later became the basis of side one on Volume II (1969) and Moon In June showed up as Robert's showcase on Third (1970). The two side-long epics are particularly worth noting how they present, even in this very early stage of his career, Wyatt's seamless integration of song fragments and instrumental passages within a unified whole, his stream-of-consciousness, often self-referential lyrics interspersed with witty asides (soon to become a defining characteristic of the 'Canterbury scene'), matched by Wyatt's equally idiosyncratic singing.
These tracks serve as a template for the post-psychedelic Soft Machine's career as founders of European jazz/rock and the entire release is a precursor to Robert's post-band, solo career.