Ahead Rings Out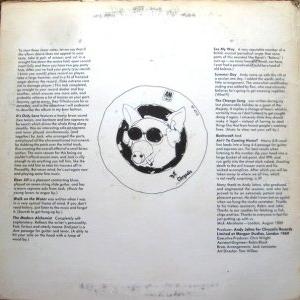 Tracklist
A1
It's Only Love
3:22
Notes:

Mick Abrahams - Written-By

A2
Dear Jill
5:08
Notes:

Mick Abrahams - Written-By

A3
Walk On The Water
3:43
A4
The Modern Alchemist
5:34
Notes:

Jack Lancaster - Written-By

B1
See My Way
5:00
B2
Summer Day
3:43
B3
Change Song
3:42
Notes:

Mick Abrahams - Written-By

B4
Backwash
0:51
Notes:

Andy Pyle - Written-By
Jack Lancaster - Written-By
Mick Abrahams - Written-By
Ron Berg - Written-By

B5
Ain't Ya Coming Home, Babe?
5:35
Notes:

Andy Pyle - Written-By
Jack Lancaster - Written-By
Mick Abrahams - Written-By
Credits
Jack Lancaster - Arranged By [Brass]
Tom Wilkes - Art Direction
Robin Black - Engineer [Assistant]
Chris Wright - Executive-Producer
Andy Johns - Producer, Engineer
Bass – Andy Pyle
Drums – Ron Berg
Flute, Violin, Saxophone – Jack Lancaster
Guitar, Vocals – Mick Abrahams
Notes
Recorded at Morgan Studios, London 1969.
Unipak cover.
Strawberry Bricks Entry:
Upon his departure from Jethro Tull after their debut album This Was, guitarist Mick Abrahams formed Blodwyn Pig with saxophonist Jack Lancaster, drummer Rob Berg and bassist Andy Pyle. Their debut album Ahead Rings Out saw release on Island Records. It's very much in the vein of the then-current Jethro Tull, leaving one to wonder about the circumstances surrounding Abrahams's split from the band. "It's Only Love" opens with a big brass sound, courtesy of Lancaster's multiple saxes. A performer of note, he was known to play more than one sax at a time. "Dear Jill," also the single from the album, pulls back a bit, offering a laidback slice of British blues. Abrahams's vocals are reminiscent of Ian Anderson's. "Walk on the Water" continues in fine style with Abrahams's guitar front and center, while Lancaster's "The Modern Alchemist" offers him a chance to exhibit the jazzier side of the band. "See My Way" and "Summer Day" feature more rocking blues, while "Change Song" opts for acoustic guitar and violin. It's a capable album of the era, offering another progressive take on blues rock. Given Jethro Tull's popularity, it's no surprise that Blodwyn Pig also found similar success; Ahead Rings Out flew into the UK charts, cresting at No 9. The following April saw another release from the band, Getting To This. It reached No. 8 in the UK and breached the Top 100 in the US. However, Abrahams subsequently left the band and cut a solo album for Chrysalis before forming yet another band, the Mick Abrahams Band. Blodwyn Pig would soldier on, first with ex-Yes Peter Banks on guitar and later with ex-Pink Fairy Larry Wallis.