Breathless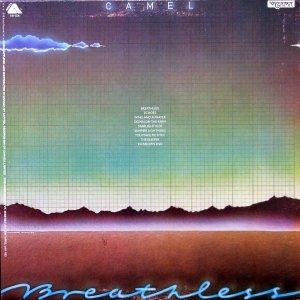 Tracklist
A1
Breathless
4:16
A2
Echoes
7:22
A3
Wing And A Prayer
4:41
A4
Down On The Farm
4:20
A5
Starlight Ride
3:20
B1
Summer Lightning
6:03
B2
You Make Me Smile
4:13
B3
The Sleeper
7:02
B4
Rainbow's End
3:00
Credits
Art Direction - Michael Munday
Bass, Vocals - Richard Sinclair
Drums, Percussion - Andy Ward
Engineer - Mick Glossop
Engineer [Assistant] - Alan Douglas
Engineer [Assistant] - Paul Taylor (11)
Flute, Saxophone - Mel Collins
Guitar, Synthesizer [Cs 80/50], Vocals - Andy Latimer
Keyboards - Peter Bardens
Photography - Keith Morris
Photography - Trevor Rogers
Producer - Camel
Producer - Mick Glossop
Notes
Recorded at The Manor, Chipping Norton Studios and Threshold.
Strawberry Bricks Entry:
Camel's lineup remained stable since the last album; and without a doubt, Breathless is all the better for it. The album again sports immaculate production, this time courtesy of Mick Glossop. The melodic and airy title track opens with a signature vocal from Richard Sinclair. "Echoes" features some tasty guitar work from Andrew Latimer and reprises his now familiar melodic song style, as does the second side's "You Make Me Smile." But "Wing and a Prayer" is an unfamiliar venture in pop, while Sinclair's "Down on the Farm" is uniquely his own (and not Camel's). "Summer Lightning" also sounds dissimilar—this time, not unlike the funk-up of Steely Dan. The instrumental "The Sleeper" is indeed the album's sleeper; fiery and exciting, it's an up-to-date reminder of Camel's instrumental dexterity. The album was well-received, rising to No. 26 on the UK charts. But shortly before its release, Pete Bardens would depart for Van Morrison's band, marking his end with the Camel. Two keyboardists from Caravan, Jan Schelhaas and Dave Sinclair, would join up for the subsequent tour, but only Schelhaas would last. American keyboardist Kit Watkins (ex-Happy the Man) and Colin Bass (the latter on bass, of course) would come on board for the next album. Released in 1979, I Can See Your House From Here showcased remarkable musicianship and a pristine production from Rupert Hine; but unfortunately, it offered little else but lightweight rock, and thus dipped to No. 45 on the UK charts. As Camel entered the 80s, further personnel changes were forthcoming.