Concerto Grosso Per I New Trolls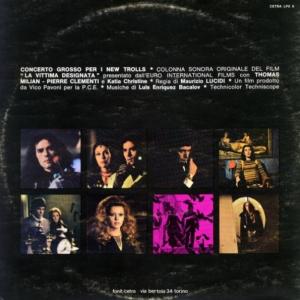 Tracklist
A1
Allegro
2:15
A2
Adagio (Shadows)
4:50
A3
Cadenza - Andante Con Moto
4:10
A4
Shadows (Per Jimi Hendrix)
5:30
B1
Nella Sala Vuota, Improvvisazioni Dei New Trolls Registrate In Diretta
20:30
Credits
Bass, Vocals - Giorgio D'Adamo
Drums, Vocals - Gianni Belleno
Guitar, Flute - Vittorio De Scalzi
Guitar, Lead Vocals - Nico Di Palo
Music By - Luis Enriquez Bacalov
Music By - New Trolls
Organ, Piano - Maurizio Salvi
Producer - Sergio Bardotti
Notes
Original soundtrack to the film "La Vittima Designata".
Recorded at Ortophonic Studio, Rome and Studio Fonit-Cetra, Milan, Italy, 23 - March 27, 1971.
Strawberry Bricks Entry:
Hailing from Genoa, the New Trolls were one of the first Italian rock bands. Story has it the band was "created" by a music critic choosing an ideal lineup: guitarist Vittorio De Scalzi, vocalist (and guitarist) Nico Di Palo, drummer Gianni Belleno, keyboardist Mauro Chiarugi and bassist Giorgio D'Adamo were all fortunate enough to land a supporting spot on The Rolling Stones' 1967 tour of Italy. After several successful singles (and two albums compiling them), the band collaborated with Argentinean composer Luis Enríquez Bacalov for Concerto Grosso per i New Trolls. Based on Baroque music, the piece opens with "Allegro," with the hard blues of the era alternating between brisk waves of strings. The syrupy "Adagio (Shadows)" follows, a rather unspectacular vocal number; while "Cadenza - Andante Con Moto" features solo violin. Only the closing "Shadows (Per Jimi Hendrix)" goes electric, courtesy of Di Palo's Jimi Hendrix-influenced guitar. Encompassing the second side is an in-studio improvisation from the band. After a protracted organ intro, the band rocks out, ranging from flute-driven rock to jazzy Santana-esque grooves and ends in one long drum solo. But according to Paolo Barotto in his The Return of Italian Pop, the record sold a phenomenal 800,000 copies in Italy and is generally regarded as the foundation of Italian progressive rock. Bacalov, who spent the 60s composing soundtracks for spaghetti westerns, would render the same services for Osanna the following year and Il Rovescio della Medaglia in 1973, though the former was undoubtedly his crowning musical achievement. In 1972, the New Trolls issued two albums: The half-live, half-studio Searching For A Land included a switch to English-language vocals, while UT was generally better received-in fact, one of the band's finest records. The band then split; De Scalzi formed the New Trolls Atomic System (to avoid legal hassles) and issued a self-titled album of progressive rock in 1973, while Di Palo formed Ibis with most of the other members of the New Trolls. In 1976 the factions made up and reformed the New Trolls, uniting De Scalzi, Di Palo and Belleno with new members. Their first recording was Concerto Grosso No. 2; but unfortunately, it did little to further their legacy.