Emergency!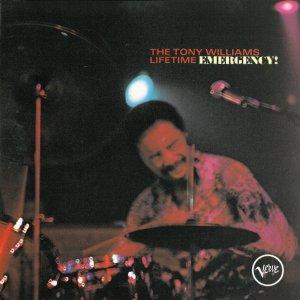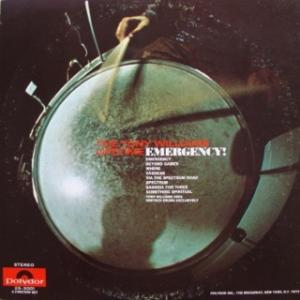 Artist:
Tony Williams Lifetime
Tracklist
A1
Emergency
9:35
Notes:

Written-By - Anthony Williams

A2
Beyond Games
8:17
Notes:

Written-By - Anthony Williams

B3
Where
12:10
Notes:

Written-By - John McLaughlin

B4
Vashkar
4:59
Notes:

Written-By - Carla Bley

C5
Via The Spectrum Road
7:49
Notes:

Written-By - Anthony Williams
Written-By - John McLaughlin

C6
Spectrum
8:50
Notes:

Written-By - John McLaughlin

D7
Sangria For Three
13:07
Notes:

Written-By - Anthony Williams

D8
Something Special
5:37
Notes:

Written-By - Dave Herman
Credits
Artwork By [Cover Design] - Elaine Gongoram
Drums - Anthony Williams
Executive Producer - Bill Levenson
Executive Producer - Richard Seidel
Guitar - John McLaughlin
Liner Notes - John McDermott
Liner Notes - Ralph J. Gleason
Mastered By [Reissue] - Joseph M. Palmaccio
Mastered By [Reissue] - Phil Schaap
Organ - Larry Young
Photography, Artwork By [Art Direction] - Sid Maurer
Producer - Jack Lewis
Producer - Monte Kay
Recorded By, Mixed By - Gene Radice
Reissue Producer - Jerry Rappaport
Notes
Recorded at Olmstead Sound Studios, New York City, May 26 & 28, 1969
Strawberry Bricks Entry:
Just 17 years old when he joined Miles Davis's quintet in 1962, drummer Anthony "Tony" Williams had spent his earliest years playing in the clubs of Boston. His debut as a band leader was the 1964 release Life Time for the Blue Note label. By the end of the decade though, Williams was headed in a completely different direction. New York City was fertile ground at the time and seeds of jazz fusion were being sown. Williams (among many others) jammed with Jimi Hendrix, and there's little doubt of the guitarist's influence on what would follow. With guitarist John McLaughlin and organist Larry Young, The Tony Williams Lifetime set out in May 1969 to record what would become one of the landmark jazz-rock albums, Emergency!. Although the record suffers from a sub-standard recording, it's one of the heaviest records ever-Williams's post-bop beat doesn't swing, it rocks. And of course, jazz purists hated it. Like a soloist, what's most striking about Williams's playing is that he's all over the drum kit, playing lead with it. His take at "singing" however is a love-hate affair. For my taste, it's as experimental as the rest of the album, and full of black soul; just listen to his ramblings on McLaughlin's spacey "Where." The pace slows for "Via the Spectrum Road" before McLaughlin previews the direction of his next group on the ensuing "Spectrum." Both McLaughlin's and Young's performances are exemplary; the guitarist's rock-toned guitar and the swirling chords of the organist's Hammond B3 on "Sangria for Three" are full of overdrive. McLaughlin's mate (and ex-Cream bassist) Jack Bruce joined for the group's next album Turn It Over in 1970. However, creative tensions tore the band apart, and Williams and Young went on to record two comparably disappointing albums with others. In the mid-70s, Williams would form The New Tony Williams Lifetime and release another two albums of more predictable jazz fusion. Others may have received more attention for their work contemporaneous to the original Lifetime, but make no doubt: fusion all starts here.