The Fall Of The House Of Usher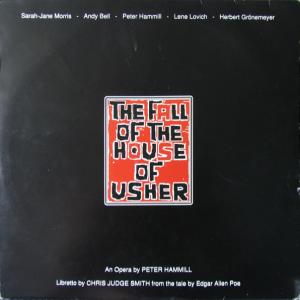 Tracklist
A1
An Unenviable Role
2:27
A2
That Must Be The House
4:52
A3
Architecture
3:35
A4
The Sleeper
3:22
A5
One Thing At A Time
2:50
A6
I Shun The Light
3:38
B1
Leave This House
5:15
B2
Dreaming
3:45
B3
A Chronic Catalepsy
3:15
B4
The Herbalist
3:43
B5
The Evil That Is Done
3:07
C1
Five Years Ago
3:27
C2
It's Over Now
3:44
C3
An Influence
3:20
C4
No Rot
2:04
C5
She Is Dead
6:04
D1
Beating Of The Heart
5:13
D2
The Haunted Palace
4:20
D3
I Dared Not Speak
1:45
D4
She Comes Towards The Door
2:29
D5
The Fall
3:07
Credits
Peter Hammill - Arranged By
Paul Ridout - Artwork By, Design [Sleeve]
Judge Smith - Libretto By
BAZZA - Mastered By
Peter Hammill - Performer [All Instruments]
Peter Hammill - Recorded By
Les Chappell - Recorded By [H.o.m.e.]
Christoph Matlok - Recorded By [Outside]
Lene Lovich - Vocals [Madeline Usher]
Andy Bell - Vocals [Montresor]
Peter Hammill - Vocals [Roderick Usher]
Sarah Jane Morris - Vocals [The Chorus]
Herbert Grönemeyer - Vocals [The Herbalist]
Peter Hammill - Vocals [The Voices Of The House]
Notes
An Opera by Peter Hammill.
From the tale by Edgar Allen Poe.
Recorded at Sofa Sound and Terra Incognita
Except: Parts of Ms. Lovich's performance recorded at H.O.M.E. Studios by Les Chappell.
Mr Grönemeyer's performance recorded at Outside Studios by Christoph Matlok.
Andy Bell appears by permission of Mute Records
Herbert Grönemeyer appears by permission of EMI-Electrola.
Total Running Time: 76'47"
500 Copies Only.
"Manufactured in the UK" (back cover). / "MADE IN ENGLAND" (on labels).