Fish Out Of Water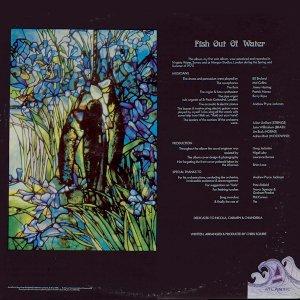 Tracklist
A1
Hold Out Your Hand
4:14
A2
You By My Side
5:03
A3
Silently Falling
11:21
B1
Lucky Seven
6:57
B2
Safe (Canon Song)
14:53
Credits
Bass, Guitar, Vocals - Chris Squire
Drums, Percussion - Bill Bruford
Engineer - Gregg Jackman
Engineer [Assistant] - Nigel Luby
Flute - Jimmy Hastings
Leader [Brass Sections] - John Wilbraham
Leader [Horn Sections] - Jim Buck
Leader [String Sections] - Julian Gaillard
Leader [Woodwind Sections] - Adrian Brett
Organ [Pipe] - Barry Rose
Organ, Synthesizer [Bass] - Patrick Moraz
Photography [Frontcover Polaroid] - Brian Lane
Photography, Artwork By [Cover Design] - Laurence Bernes
Piano, Electric Piano, Conductor - Andrew Pryce Jackman
Producer, Arranged By - Chris Squire
Saxophone - Mel Collins
Written-By - Chris Squire
Notes
Recorded in Virginia Water, Surrey and at Morgan Studios, London during Spring & Summer of 1975.
Strawberry Bricks Entry:
Yes bassist Chris Squire's solo album Fish Out Of Water was the first to appear after Yes took a sabbatical following Relayer. That each member recorded an album worthy of release on Atlantic Records is debatable; but judged by this record alone, it was a great idea! Squire put together a fantastic band, including ex-Yes member Bill Bruford and almost ex-Yes member Patrick Moraz, with noted session players Mel Collins and Jimmy Hastings contributing. In addition to piano, Andrew Pryce Jackman provided the luscious orchestral arrangements. Jackman was previously in Squire's late 60s outfit The Syn. Squire took on all the vocal and guitar duties, with his distinctive Rickenbacker bass obviously to the fore. The album contains the same majesty of Yes, with the added distinction of not sounding like Yes at all. The energetic melody and pipe organ of "Hold Out Your Hand" presage "Parallels" from the next Yes album, while "You by My Side" is similarly melodic. Both feature a huge bass line straight down the middle; Jackman's arrangements meld each piece together, giving the side a fluidity not found in even the best of Yes' efforts. Moraz lends a hand (or two) to the instrumental section of the next track, "Silently Falling," before Squire's electric guitar sends the ending section into a spiraling refrain. "Lucky Seven" (written in 7/8 time) has the simplicity of Fragile's best moments; Squire's bass soars over Bruford's deft rhythm and Jackman's chiming electric piano. "Safe (Canon Song)" reaches out to symphonic proportions, repeating an even longer fade than on the first side. The album was moderately successful, charting in the Top 50 on both sides of the Atlantic, as did most of the other Yes members' solo albums; and Yes' record-breaking tour in the summer of 1976 would feature live renditions from these individual works. But Squire would stick true to Yes, and this would remain his only solo record for many decades.