Fish Rising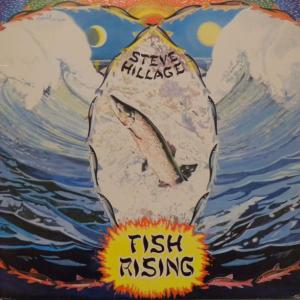 Tracklist
A1a
Sun Song (I Love It's Holy Mystery)
6:15
A1b
Canterbury Sunrise
3:25
A1c
Hiram Afterglid Meets The Dervish
4:05
A1d
Sun Song (Reprise)
3:10
A2
Fish
1:23
A3
Meditation Of The Snake
3:10
B1a
Salmon Pool
1:17
B1b
Solomon's Atlantis Salmon
2:08
B1c
Swimming With The Salmon
1:37
B1d
King Of The Fishes
3:43
B2a
Sun Moon Surfing
1:36
B2b
The Great Wave And The Boat Of Hermes
1:51
B2c
The Silver Ladder
0:40
B2d
Astral Meadows
2:01
B2e
The Lafta Yoga Song
2:42
B2f
Glidding
2:23
B2g
The Golden Vibe / Outglid
3:33
Credits
Arranged By [Additional] - Dave Stewart
Artwork By [Cover Concept] - Steve Hillage
Bass - Mike Howlett
Bassoon - Lindsay Cooper
Composed By, Arranged By - Steve Hillage
Drums, Marimba, Goblet Drum - Pierre Moerlen
Engineer - Simon Heyworth
Engineer [Additional] - Alan Perkins
Engineer [Additional] - Phil Beque
Glockenspiel, Percussion - Bambaloni Yoni
Guitar, Vocals - Steve Hillage
Lyrics By, Other [Record Concept] - Miquette Giraudy
Lyrics By, Other [Record Concept] - Steve Hillage
Mixed By [Assistant] - Paul Northfield
Organ, Piano - Dave Stewart
Photography - Brigitte Moonweed
Photography - Phoenix
Producer - Simon Heyworth
Producer - Steve Hillage
Saxophone, Flute [Indian] - Bloomdido Bad de Grass
Synthesizer, Tambura - Hi. T. Moonweed
Notes
Recorded at The Manor, September '74 and in The Manor Mobile, January '75.
Mixed February '75 at Advision and The Manor Mobile.
Virgin International, 43 Perry Street, New York, N.Y. 10014
Distributed by JEM Records, Inc., South Plainfield, N.J. 07080, Resada, Ca. 91355.
Printed in the U.S.A.
Strawberry Bricks Entry:
While still a member of Gong, Hillage was afforded the opportunity by Virgin Records to record a solo album. It's no surprise then that Fish Rising contains most of the Gong crew, plus Hillage's partner Miquette Giraudy and former bandmate Dave Stewart. In fact, much of the material here was first written during the second incarnation of Khan in 1972. Stewart's keyboards give "Solar Musick Suite" (sic) a none-too-subtle nod towards the so-called Canterbury sound. Beginning with a cheerful melody, the opening track travels through a few Gong-like instrumental sections before winding up; Hillage's distinctive, echo-inflected lead guitar is prominent. Side two is more typical of the direction his music would eventually take. The main riff of "The Salmon Song" is simple, repetitive and, above all, memorable: the anchor on which the song rests. Lindsay Cooper's bassoon adds a foreign flavor, but the bubbling synthesizers and "space whisper" of Giraudy steer things more toward the Gong side of the fence. "Aftaglid" demonstrates more of Hillage's guitar technique with the Eventide delay. From the opening bell, he adds his guitar lines over the extremely laid-back beat, before erupting with a massive lead guitar run; it's followed by a rare acoustic piece that evolves into an ethnic-tinged section (courtesy of the tabla) before the song again reprises itself. This would be Hillage's only solo album to feature Gong members; and the last with such overt Gong influence. The album rose to a respectable No. 33 in the UK charts. Hillage then took his leave from Gong; and after a very brief stint with Dave Stewart's National Health, he embarked on his solo career in earnest.