Holy Magick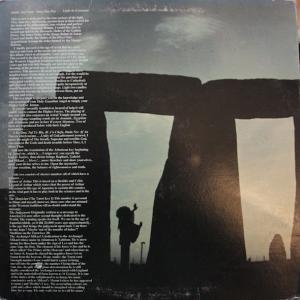 Tracklist
B1
Return Of Arthur
5:04
B2
The Magician
4:02
B3
The Judgement
4:46
B4
My Archangel Mikael
4:10
Credits
Alex Dmochowski - Bass Guitar
Rick Grech - Bass Guitar
Gerry Salisbury - Cornet
Godfrey McLean - Drums
Keith Bailey - Drums
John Moorshead - Guitar
Kevin Stacey - Guitar
Pete Bailey - Percussion
Victor Brox - Piano, Cornet [Pocket], Vocals, Performer [Tibetan Dhong], Euphonium
John Gross - Saxophone [Tenor]
Aliki Ashman - Vocals
Annette Brox - Vocals
Victor Brox - Vocals, Electric Piano, Piano
Diane Stewart - Vocals, Gong
Graham Bond - Vocals, Saxophone [Alt, Electric, Acoustic]
Notes
Unipak gatefold sleeve.
Strawberry Bricks Entry:
Along with John Mayall, Alexis Korner and Cyril Davies, Graham Bond established his place in musical history as one of the founding fathers of British R&B. Bond also was a pioneer of the Hammond organ, one of the hallmark instruments of the progressive era. His Graham Bond Organisation was the precursor to both Colosseum and Cream; John McLaughlin, Jon Hiseman, Ginger Baker and Jack Bruce all played in the group. But by the late 60s, Bond had split to America with The Fool; and upon returning, spent his time with both Initiation and Ginger Baker's Airforce, playing sax. The former outfit, a fluid amalgamation of musicians that included Bond's Jamaican wife Diane Stewart, drummer Keith Bailey and pianist Victor Brox, was reincarnated here as Magick, reflecting Bond's fascination with the occult. Their debut album Holy Magick was released in late 1970 on Vertigo Records. While Bond's music never really strayed from his R&B roots, the album's first side, encompassed by the sprawling, 14-part improvisatory vamp title suite is progressive enough. Riding a fierce 23-minute groove, it's similar in concept to what Daevid Allen would conjure up for Gong; though comparatively speaking, Bond and Stewart's voices are often at odds with the music. A second album for Vertigo, We Put Our Magick on You, was released in mid-1971. Terry Poole and John Weathers anchored the album, but the band broke up upon its release. Bond teamed with lyricist Pete Brown for one final record in 1972, Two Heads Are Better Than One. But his demons-financial, chemical and otherwise-continued to plague him; and in 1974, he died under the wheels of a Piccadilly line train in Finsbury Park. Poole and Stewart would briefly join Gong in the mid-70s.