Hot Rats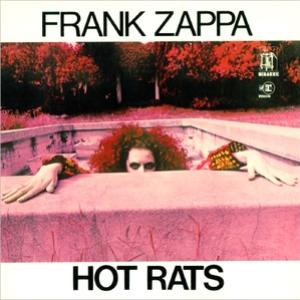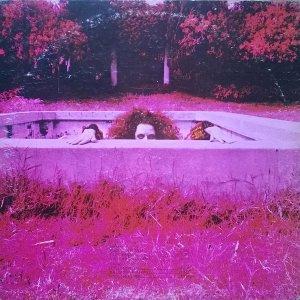 Tracklist
A1
Peaches En Regalia
3:58
Notes:

Bass - Shuggie Otis
Drums - Ron Selico

A2
Willie The Pimp
9:25
Notes:

Violin - Don "Sugarcane" Harris
Vocals - Captain Beefheart

A3
Son Of Mr. Green Genes
8:58
Notes:

Drums - Paul Humphrey

B1
Little Umbrellas
3:09
B2
The Gumbo Variations
12:55
Notes:

Drums - Paul Humphrey
Violin - Don "Sugarcane" Harris

B3
It Must Be A Camel
5:15
Notes:

Violin - Jean-Luc Ponty
Credits
Bass - Max Bennett
Composed By - Frank Zappa
Drums - John Guerin
Guitar, Bass [Octave], Percussion - Frank Zappa
Piano, Organ, Flute, Clarinet, Saxophone - Ian Underwood
Notes
Recorded 16 track August through September 1969.
Strawberry Bricks Entry:
Raised in the high desert outside of Los Angeles, legend has it that a young Frank Zappa (b. 1940) was granted a long-distance phone call for his fifteenth birthday: the recipient was 20th century composer and musical pioneer Edgard Varèse (actually his wife). Zappa's first release was in late 1966. Credited to The Mothers of Invention, Freak Out! was a sprawling double-album with little precedent; it shunned the burgeoning hippie vibe of the West Coast for something far stranger: a mélange of music styles, ranging from highbrow classicism to down-in-the-gutter rock 'n' roll. Retaining only Ian Underwood from the original Mothers, Hot Rats was Zappa's first "solo" record, and remains one of his most monumental achievements. The opening track "Peaches en Regalia" is a brief but engaging sample of what's in store: sprightly melodic arrangements, wonderful execution, a sound that's jazzy but nowhere near traditional jazz. The album is reputedly one of the first recorded to sixteen-track tape; and that's Underwood playing all the brass, flute and keyboard parts—no simple feat! "Willie the Pimp" features a cursory vocal appearance from cohort Captain Beefheart, but what Zappa is really pimping here is himself; the track is one of his most overt displays of his lead guitar playing. "Son of Mr. Green Genes" again features Zappa's great musical arrangements, but the following "Little Umbrellas" does more with less. "The Gumbo Variations" is a down-and-dirty rocker with room for soloing, including Don Sugarcane Harris's violin. However, the closing track, "It Must Be a Camel" is the album's highlight: Zappa's composition is as engaging as it is unique; it simply defies categorization. The album was a commercial success, rising to No. 9 on the UK charts. Zappa would reactivate The Mothers and release countless records over the ensuing decades, though fanboys are directed to the period surrounding Waka/Jawaka and The Grand Wazoo for complimentary offerings to this record. Prolific, exacting and unprecedented, there's little argument about Frank Zappa's genius or his influence: countless artists would name check the man over the ensuing years.