Kraftwerk 2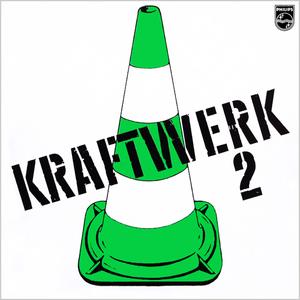 Tracklist
A1
Klingklang
17:36
A2
Atem
2:57
B1
Strom
3:52
B2
Spule 4
5:20
B3
Wellenlänge
9:40
B4
Harmonika
3:17
Credits
Engineer [Tontechnik] - Conny Plank
Flute, Violin, Guitar, Electronics [Mischpult > Mixing Console], Bells [Glocken] - Florian Schneider
Music By, Photography, Design [Cover] - Florian Schneider
Music By, Photography, Design [Cover] - Ralf Hütter
Organ, Electric Piano, Bass Guitar, Electronic Drums [Rhytmusmaschine], Bells [Glocken], Accordion [Harmonika] - Ralf Hütter
Producer, Recorded By, Mixed By - Conny Plank
Producer, Recorded By, Mixed By - Florian Schneider
Producer, Recorded By, Mixed By - Ralf Hütter
Notes
First release comes in foldout cover. The cone is printed with fluorescent green ink on smooth (but unlaminated) white cardboard.
Produced, recorded and mixed 20.09. - 1.10.1971 at STar Musik Studio (Ralf Arnie), Hamburg.
All titles: Ralf Arnie Musikedition
Cat# on rear has the suffix D within a square.
At the runout on both sides a K - turned 90° appears. It may be a mastered by credit.