Land Of Cockayne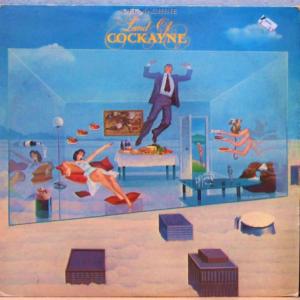 Tracklist
A1
Over 'N' Above
A2
Lotus Groves
A3
Isle Of The Blessed
A4
Panoramania
A5
Behind The Crystal Curtain
B1
Palace Of Glass
B2
Hot-Biscuit Slim
B3
(Black) Velvet Mountain
B4
Sly Monkey
B5
"A Lot Of What You Fancy..."
Credits
Alto Saxophone, Flute [Bass] – Ray Warleigh
Artwork By [Cover Painting] – Roy Ellsworth
Backing Vocals – John Perry (7), Stu Calver*, Tony Rivers
Bass – Jack Bruce
Composed By, Arranged By, Conductor, Synthesizer [Synclavier, C.s.80 Mini-moog], Piano – Karl Jenkins
Design, Art Direction – David Dragon*
Directed By [Music] – John Marshall, Karl Jenkins
Drums, Percussion – John Marshall
Electric Piano [Fender Rhodes] – John Taylor (2)
Engineer [Pye] – John Temperley, Terry Evenett
Engineer [Riverside] – Neil Richmond
Lead Guitar – Allan Holdsworth
Leader [Orchestra] – Bill Harman
Mastered By – Chris Blair, Nick Webb
Photography – Jennifer Bates, Peter Vernon
Producer – Mike Thorne
Rhythm Guitar – Alan Parker
Tenor Saxophone – Dick Morrissey
Notes
Recorded at Pye and Riverside Studios, London 1980. Mix-down at Pye.
Strawberry Bricks Entry:
Written by Karl Jenkins, Soft Machine's final record was produced by Mike Thorne, who also had just produced Wire's trailblazing trilogy of art-rock albums for the Harvest label. The record's title refers to a medieval land of plenty, and plenty of diverse tracks is what the album holds. Released in 1981, Land of Cockayne arrived well past Soft Machine's sell-by date; their previous studio album was 1976's Softs, with a live album recorded and released the following year. However, joining Jenkins and drummer John Marshall were an A-list of guests: Jack Bruce, Allan Holdsworth, Alan Parker, John Taylor, Ray Warleigh and Dick Morrissey. It's also the only album from the band to feature string arrangements. But what about the music? Composed entirely by Jenkins, he moves between new agey-ness, a good measure of disco-era funk (with strings, of course), some Oldfield-like minimalism and a tiny hint of the Softs of old (there's some nice blowing toward the end of the record). Holdsworth makes his mark on "Sly Monkey," but I still can't believe how much the opener "Over 'n' Above" sounds like Supertramp! It's a strange record; not that it's difficult to listen to or digest, but it's one that ultimately has no time or place. Soft Machine? Not really. New Age? Maybe. Rock 'n' roll? Certainly not. 1981? Really!? Well, it opened to little fanfare; and apart from a week-long residency in 1984 at Ronnie Scott's, the album remains Soft Machine's final coda.