Live Chronicles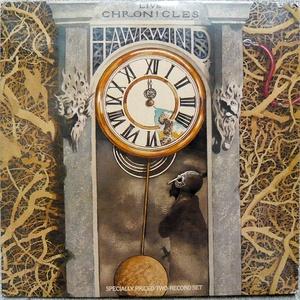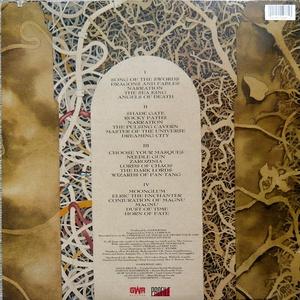 Tracklist
A1
Song Of The Swords
3:09
Notes:

Dave Brock - Written-By

A2
Dragons And Fables
3:10
Notes:

Huw Lloyd-Langton - Written-By

A3
Narration
0:47
Notes:

Harvey Bainbridge - Voice
Harvey Bainbridge - Written-By

A4
The Sea King
3:49
Notes:

Huw Lloyd-Langton - Written-By

A5
Angels Of Death
4:37
Notes:

Dave Brock - Written-By

B1
Shade Gate
3:58
Notes:

Harvey Bainbridge - Written-By

B2
Rocky Paths
2:52
Notes:

Huw Lloyd-Langton - Written-By

B3
Narration
0:38
Notes:

Harvey Bainbridge - Voice
Dave Brock - Written-By

B4
The Pulsing Cavern
2:34
Notes:

Alan Davey - Written-By
Harvey Bainbridge - Written-By

B5
Master Of The Universe
3:58
Notes:

Dave Brock - Written-By
Nik Turner - Written-By

B6
Dreaming City
6:05
Notes:

Huw Lloyd-Langton - Written-By

C1
Choose Your Masques
4:15
Notes:

Kris Tait - Backing Vocals
Dave Brock - Written-By
Michael Moorcock - Written-By

C2
Fight Sequence
4:00
Notes:

Dave Brock - Written-By
Harvey Bainbridge - Written-By

C3
Needle Gun
4:15
Notes:

Dave Brock - Written-By

C4
Zarozinia
4:15
Notes:

Dave Brock - Written-By
Kris Tait - Written-By

C5
Lords Of Chaos
1:01
Notes:

Dave Brock - Written-By
Harvey Bainbridge - Written-By

C6
The Dark Lords
1:36
Notes:

Dave Brock - Written-By
Harvey Bainbridge - Written-By

C7
Wizards Of Pan Tang
1:51
Notes:

Alan Davey - Written-By
Danny Thompson - Written-By
Dave Brock - Written-By
Harvey Bainbridge - Written-By

D1
Moonglum (Friend Without A Cause)
4:46
Notes:

Huw Lloyd-Langton - Written-By

D2
Elric The Enchanter
2:31
Notes:

Alan Davey - Written-By

D3
Conjuration Of Magnu
1:52
Notes:

Dave Brock - Written-By

D4
Magnu
3:15
Notes:

Dave Brock - Written-By

D5
Dust Of Time
2:31
Notes:

Dave Brock - Written-By
Harvey Bainbridge - Written-By
Huw Lloyd-Langton - Written-By

D6
Horn Of Fate
5:54
Notes:

Dave Brock - Written-By
Credits
Kris Tait - Backing Vocals, Other [Dance]
Alan Davey - Bass, Backing Vocals
Danny Thompson - Drums
Paul Cobbold - Engineer
Huw Lloyd-Langton - Guitar [Lead], Vocals
Tony Crerar - Other [Dance]
Hawkwind - Producer
Harvey Bainbridge - Synthesizer, Keyboards, Voice
Dave Brock - Vocals, Guitar, Synthesizer, Keyboards
Notes
Recorded Live on the Chronicle Of The Black Sword Tour 1985. Mixed at Rockfield Studios.
"To all those who made it to Stonehenge (or tried) and to The Convoy."
Based on the Elric Novels from the writer Michael Moorcock. Some editions came with the tour program.
Track C2 is not listed on back of album cover, only on the record itself.