Missing Period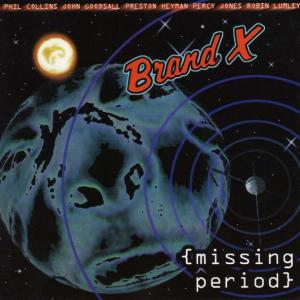 Tracklist
1
Dead Pretty
7:11
2
Kugelblitz
11:03
3
Ancient Mysteries
7:19
4
Why Won't You Lend Me Yours?
8:46
5
Miserable Virgin
8:55
6
Tito's Leg
7:23
Credits
Artwork By [Cover Design] - Franz Pusch
Artwork By [Cover Design] - Shawn Ahearn
Artwork By [Graphic Design] - Sheri Neville
Bass - Percy Jones
Drums - Phil Collins
Executive Producer - Sami Kaneda
Executive Producer - Shawn Ahearn
Guitar - John Goodsall
Keyboards - Robin Lumley
Mastered By - Doug Milton
Mastered By - Judson Leach
Mastered By - Keith Lewis
Percussion - Preston Heyman
Producer - Brand X
Technician [Technical Assistance] - Mark Tessier
Written-By - John Goodsall
Written-By - Percy Jones
Notes
This album represents the earliest known recordings of Brand X circa 1975-76.
Mastered at J-Labs, Hollywood, CA and Cyberella Studios, Baltimore, MD.
Special thanks: Germaine and Bina, Paul Sheffron, Mike McAllister, Doug Milton, Keith & Debbie, Tets "Bone" Maruo and the staff of Pony Canyon Japan and our dedicated fans who have supported us throughout...this ones for you!