Monster Movie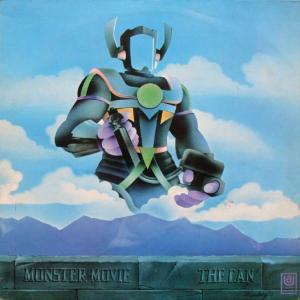 Label:
United Artists Records
Tracklist
A1
Father Cannot Yell
7:01
A2
Mary, Mary, So Contrary
6:16
A3
Outside My Door
4:06
B
Yoo Doo Right
20:14
Credits
Arranged By - Can
Bass - Holger Czukay
Drums - Jaki Liebezeit
Guitar - Michael Karoli
Organ - Irmin Schmidt
Vocals - Malcolm Mooney
Notes
Made in a castle with better equipment.
Track B recorded Live at Burg, Nörvenich 25th, July, 1969.
A product of Liberty / U.A. Records Ltd.
An Inner Space Production.
Runout side A / B:
UAS 29094A-1 > / UAS 29094B-1
(P) 1969
Strawberry Bricks Entry:
One look at the backgrounds of the members of Can (jazz pedigrees, students of Karlheinz Stockhausen, WDR Studio etc.) and the last thing you'd think is that they were a rock band. Similarly, listening to their music, you'd also probably have to stretch the concept of rock 'n' roll to fit them in. Krautrock was Germany's answer to the psychedelic and progressive music of the late 1960s, and certainly a unique idiom in and of itself. But Can's post-psychedelic groove had much more to do with the avant-garde, even by krautrock's standards. The core musicians of bassist Holger Czukay, guitarist Michael Karoli, drummer Jaki Liebezeit and keyboardist Irmin Schmidt founded The Can in 1968 in Cologne. Their debut album, Monster Movie, featured American Malcolm Mooney on vocals (if you can call them that). Can doesn't necessarily prescribe to the "freak out" or "space rock" traditions of their pioneering krautrock brethren. Instead, the band treated each song as groove, but in the most non-ethnic sense. The incessant metronomic beat of "Yoo Doo Right" is epic, while "Father Cannot Yell" is classic; the band lock onto the groove and ride it straight through some freaky inner space, with Karoli's guitar acting the screeching electric counterpoint to Mooney's breathy vocal "rap." The proto-punk of "Outside My Door" demonstrates the influence of the Velvet Underground; but with its symphonic refrain, "Mary, Mary, So Contrary" reveals a slightly psychedelic edge. Following Mooney's abrupt departure (for health reasons), the band enlisted the similarly unique talent of Damo Suzuki for their next four albums.