Phallus Dei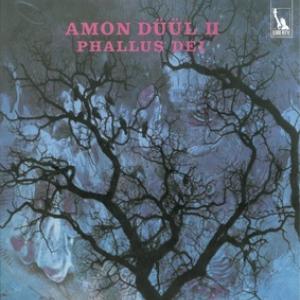 Tracklist
A1
Kanaan
3:56
A2
Dem Guten, Schönen, Wahren
6:00
A3
Luzifers Ghilom
8:02
A4
Henriette Krötenschwanz
1:59
B
Phallus Dei
20:45
Credits
Bass - Dave Anderson
Bongos, Vocals, Violin - Shrat
Composed By, Lyrics By, Arranged By - Amon Düül II
Design [Cover Design] - Amon Düül II
Drums - Peter Leopold
Drums [Turkish] - Holger Trülzsch
Drums, Cymbal [Electric] - Dieter Serfas
Guitar, Bass [12-string] - John Weinzierl
Organ - Falk-Ulrich Rogner
Photography By - Amon Düül II
Photography By - Gerd Stein
Producer - Olaf Kübler
Vibraphone - Christian Burchard
Violin, Guitar, Twelve-string Guitar, Soprano Saxophone, Vocals - Chris Karrer
Vocals, Tambourine - Renate Knaup
Notes
Released with an insert.
Strawberry Bricks Entry:
The original Amon Düül saw its beginning in 1967 as an art commune in Munich, albeit one of a more socio-political nature than that of a musical group. Most of their recordings stem from two jam sessions recorded in 1968-69 and were mainly released posthumously, after 1969's Psychedelic Underground. Led by Chris Karrer, Amon Düül II formed in 1968 as a live band, featuring the more "musically proficient members" of the commune: Karrer, John Weinzierl, Falk-Ulrich Rogner, Renate Knaup, Peter Leopold and Dieter Serfas comprised the original lineup. However, stability would not be one of the band's strong suits, as personnel changes as well as numerous guest musicians, would plague the band's existence. Here, both Christian "Shrat" Thierfeld on bongos and Brit Dave Anderson on bass drifted in. Jazz saxophonist Olaf Kübler was another key player; as the band's manager, he signed them to the United Artists/Liberty label and produced the band's first several albums. They released their debut album, Phallus Dei, in 1969. Though sharing a chronology with the acid rock of the Grateful Dead or psychedelia of Pink Floyd, what's inside is much more bizarre. Knaup's voice is immediately recognizable. It's the antithesis of her British counterparts; in fact, so is Amon Düül II. Their compositions are based on improvisations, with an emphasis on the raw freak out of psychedelia, yet with a hint of (perhaps deliberate?) amateurism. The opener "Kanaan," however, remains the archetype, brooding under a near-tribal beat. As much of a groundbreaking example of German "krautrock" as the album would become, it's also known for its rather controversial title, which translates from Latin to "God's Penis."