Present From Nancy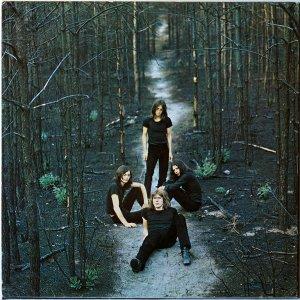 Tracklist
A1a
Introductions
2:53
A1b
Present From Nancy
5:09
A2a
Memories Are New
3:45
A2b
11/8
3:17
A2c
Dreaming Wheelwhile
2:47
B1
Corporation Combo Boys
1:22
Notes:

Lyrics By - Robert Jan Stips

B2a
Mexico
3:03
B2b
Metamorphosis
4:40
B2c
Eight Miles High
0:20
B3
Dona Nobis Pacem
8:36
Notes:

Written-By - Supersister
Written-by [Co-writer] - Hans Van Oosterhout
Credits
Arranged By - Supersister
Drums, Percussion, Vocals - Marco Vrolijk
Engineer - Pieter Nieboer
Engineer [Assistant] - Jan Schuurman
Engineer [Assistant] - Wouter Luikinga
Flute, Vocals - Sacha Van Geest
Lyrics By, Bass Guitar, Bass [Fuzz] - Ron Van Eck
Music By, Keyboards, Lead Vocals - Robert Jan Stips
Photography By - Nico Venneker
Producer - Hans Van Oosterhout
Notes
℗ 1970 Red Bullet Productions bv
Recorded at Phonogram Studios
Made in Holland
Track B1 on Innersleeve is named: "Co-operating Comboboys"
"The nice black dead background on the cover photographs has been created by the dutch army. *thanksalot*"
Strawberry Bricks Entry:
Formed in 1968 in the The Hague, Supersister was comprised of Robert Jan Stips (vocals and keyboard), Sacha van Geest (flute), Marco Vrolijk (drums) and the non-bespectacled Ron van Eck (bass). Extensive play from pirate ship Radio Veronica brought the band's first single, "She Was Naked" b/w "Spiral Staircase" to No. 11 on the Dutch charts in May 1970, and helped land a contract with Polydor Records. Their debut album Present From Nancy appeared in the fall. Between the Mike Ratledge-inspired tones of Stips's keyboards, the musical quirkiness-quick shifting meters and jazz-inspired rhythms-Supersister draws a parallel to the music of Soft Machine. After the introductory "Introductions," a quick blast of fuzz bass opens "Present from Nancy;" Stips's piano teems with life, bouncing effortlessly across the tune. He switches to organ on "Memories Are New" before the track descends into chaos, while the following "11/8" turns again to fuzz. "Dreaming Wheelwhile" slows the pace, a welcome respite to the album's first side. After the brief "Corporation Combo Boys," side two's "Mexico" builds slowly before erupting into "Metamorphosis." The closing "Dona Nobis Pacem" ("Grant us Peace") does just that; but, true to Supersister's form, gets silly at the end. Again, much like Soft Machine's early work, the album pinch's that stream-of-consciousness that would help define the so-called Canterbury style. To the Highest Bidder arrived in the summer of 1971, offering four tracks that display the band's jazzier side. Nominated for a prestigious Edison music award in the Netherlands, the album also saw release in England on John Peel's Dandelion label.