Rare Birds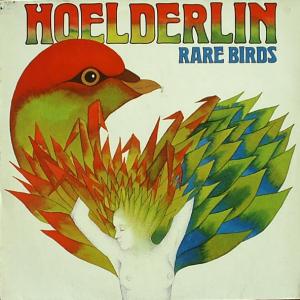 Tracklist
A1
Häktik Intergaläktik
8:33
A2
Sky-Lift
4:17
A3
Before You Lay Down Rough And Thorny
7:25
Notes:

Vocals - Pablo Weeber

B1
Rare Bird
7:45
Notes:

Vocals - Joachim von Grumbkow

B2
Necronomicon
6:15
Notes:

Drums - Manfred von Bohr

B3
Sun Rays
8:55
Credits
Arranged By, Producer - Hoelderlin
Bass - Hans Bäär
Drums, Percussion - Michael Bruchmann
Engineer [Live Sound] - Joachim Käseberg
Guitar - Pablo Weeber
Keyboards - Joachim von Grumbkow
Lyrics By, Supervised By, Artwork [Cover Concept], Painting , Design - Christian von Grumbkow
Mixed By, Effects - Manfred Schunke
Photography By - Ingo Hamacher
Recorded By, Co-producer - Cedric Beatty
Viola, Vocals - Christoph Noppeney
Notes
Mixed at Delta Acoustic Studios, Wilster on June 4 to 7, July 18 to 30 and August 19 to 22, 1977. Grand piano recorded at Studio Nedeltschev, Cologne.
Strawberry Bricks Entry:
At the beginning of the year, Christian von Grumbkow put down his guitar to become the band's manager (although he would continue to provide lyrics for their music). Spaniard Pablo Weeber, on a recommendation by Guru Guru, took his place, adding a significant mark to the band's sound. Rare Birds was recorded with Cedric Beatty and Manfred Schunke, the latter of the Kunstkopf or "artificial head" fame. "Häktik Intergaläctic" and "Sky Lift" open, revealing a more song-based approach, though one no less progressive. The latter features a fantastic break, complete with a Nops Noppeney viola solo. Michael Bruchmann and Hans Bäär are in prime form for "Before You Lay Down Rough and Thorny," especially for its instrumental second half. On the second side, "Rare Bird" is simply gorgeous; while "Necronomicon," written by Weeber, is a fiery instrumental track. The closing "Sun Rays" is another vocal number, with the slight downtempo adding to its lusciousness. Throughout their career, Hoelderlin toured their native Germany more than any other band of the era, save for the Scorpions. Fittingly, a live double-album was recorded in their hometown of Wuppertal at the end of this album's promotional tour. Released in 1978, Traumstadt captured the band's electrifying stage performance, and would become their bestselling release. Yet before recording their next album, the band went through significant personnel changes, including the departure of Noppeney and Bruchmann, and the arrival of Eduard Schicke (from SFF) and others. Hoelderlin then released the appropriately-titled New Faces in 1979. It marked a change in musical direction as well, as the band's penchant for lush instrumental beauty was now replaced with shorter, more contemporaneous songs. Switching to the German language, the band released one final album, Fata Morgana, in 1980. Although skirting the Neue Deutsche Welle, it was an original enough venture, though light years from the original lineup's "Traum" a decade before.