Selling England By The Pound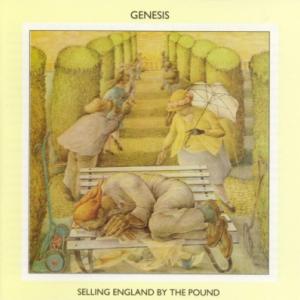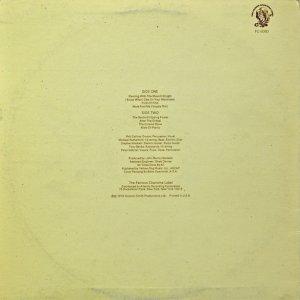 Tracklist
A1
Dancing With The Moonlit Knight
8:02
A2
I Know What I Like (In Your Wardrobe)
4:03
A3
Firth Of Fifth
9:36
A4
More Fool Me
3:10
B1
The Battle Of Epping Forest
11:43
B2
After The Ordeal
4:07
B3
The Cinema Show / Aisle Of Plenty
12:40
Credits
Drums, Percussion, Vocals - Phil Collins
Engineer [Assistant] - Rhett Davies
Guitar [12-string], Bass, Sitar [Electric] - Mike Rutherford
Guitar [Electric, Nylon] - Steve Hackett
Keyboards, Guitar [12-string] - Tony Banks
Producer - Genesis
Producer - John Burns
Vocals, Flute, Oboe, Percussion - Peter Gabriel
Notes
Distributed by Atlantic Records.
Strawberry Bricks Entry:
Although released in July as a budget-priced album, the performances on Genesis Live were priceless; the record rose to No. 9 on the UK album charts. Live albums had started to appear during the early 70s, ostensibly to fill the album-per-year requirement most labels demanded. Of course, other than earning an easy buck or two, they also gave bands a breather to jump-start the creative process or fill a vacant role, and often served as a bookmark in a band's development. For Genesis, it closed the chapter that began with Trespass. If our boys from Charterhouse made one big artistic leap in their recording career, it was with Selling England By The Pound; all that the band would accomplish in the future now seems plausible from here. It's instantly evident on the lead track "Dancing with the Moonlit Knight." While the band paces through several changes in tone and tempo, the production holds throughout, and the slow fade reveals a new precision from the band. Throughout the album, the compositions offer a substantial maturity: both "Firth of Fifth" (with Tony Banks's proud piano introduction) and "Cinema Show" would feature prominently in their later stage repertoire. Steve Hackett's "After the Ordeal" (co-written with Mike Rutherford) is unique territory for the band; however, Hackett's elegant guitar solo on "Firth of Fifth" remains his classic contribution to the album. Genesis even had a near hit-single in "I Know What I Like (In Your Wardrobe)" b/w "Twilight Alehouse" (it reached No. 21 in the UK). The album's musical highlight, though, is the epically constructed and superbly executed "The Battle of Epping Forest." The band would go on record proclaiming that they were happier with the track without Peter Gabriel's gang account sung on top of it—writing on the wall? The album was Genesis' first unqualified success, rising to No. 3 in the UK and to a respectable No. 70 in the US. Like the changes in Hackett's facial hair at the time, the band was coming out of their cocoon: readying themselves for even greater triumphs.