Solar Fire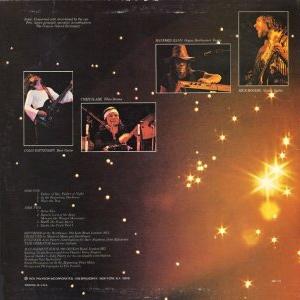 Artist:
Manfred Mann's Earth Band
Tracklist
A1
Father Of Day, Father Of Night
9:53
A2
In The Beginning, Darkness
5:19
Notes:

Percussion [Extra] - Peter Miles

A3
Pluto The Dog
2:45
B1
Solar Fire
5:14
B2
Saturn, Lord Of The Ring; Mercury, The Winged Messenger
6:30
B3
Joybringer
3:23
B4
Earth, The Circle
3:48
Credits
Backing Vocals - Doreen Chanter
Backing Vocals - Grove Singers
Backing Vocals - Irene Chanter
Bass - Colin Pattenden
Design, Photography - Fin Costello
Drums [Fibes] - Chris Slade
Engineer - John Pantry
Engineer [Contribution] - Dave Stephens
Engineer [Contribution] - John Edwards
Engineer [Tape Operator] - Laurie Latham
Organ, Synthesizer, Vocals, Producer - Manfred Mann
Producer - Manfred Mann's Earth Band
Trombone - Paul Rutherford
Vocals, Guitar - Mick Rogers
Notes
Track B3 is titled "Earth The Circle Part 2" on the back cover
Strawberry Bricks Entry:
Following his excursions with fusion in Chapter Three, Manfred Mann's next venture sought something "earthier" and closer to rock. In 1971, Mann formed the Earth Band with drummer Chris Slade, bassist Colin Pattenden and guitarist and vocalist Mick Rogers. Dubbed Manfred Mann's Earth Band, they churned out four albums in the space of almost two years. Both Glorified Magnified and Messin' (US title Get Your Rocks Off) were solid efforts, illustrating that Mann had indeed assembled one cohesive band. In August, the band scored a Top 10 hit in the UK (and Europe) with "Joybringer" b/w "Can't Eat Meat," a song based on Gustav Holst's "Jupiter" from the composer's The Planets. This concept continued on the ensuing Solar Fire album. An unlikely cover of Bob Dylan's "Father of Day, Father of Night" opens the record; it's an awesome display of prog rock, the stately arrangement evoking the aura of early King Crimson, yet with Mann's organ growling underneath. From here on out, the songs are all group compositions: "In the Beginning, Darkness" rocks heavy over its driving riff, while "Pluto the Dog" gets a little funky. The hypnotic groove of the title track provides an excellent base for Rogers's lead guitar, while "Saturn, Lord of the Ring/Mercury, the Winged Messenger" traverses fusion-inspired realms. Overall, it's a strikingly original album that avoids most of the sins of prog rock, and one that even managed to break into the US Top 100. The Earth Band's next effort, The Good Earth, featured more terrestrial compositions, the instrumental "Sky High" notwithstanding. The album also had the ultimate gimmick: a purchase entitled the buyer to one square foot of land somewhere in Wales!