Songs For A Tailor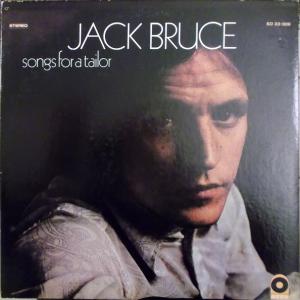 Tracklist
A1
Never Tell Your Mother She's Out Of Tune
3:39
A2
Theme For An Imaginary Western
3:27
A3
Tickets To Water Falls
2:59
A4
Weird Of Hermiston
2:20
A5
Rope Ladder To The Moon
2:51
B1
The Ministry Of Bag
2:47
B2
He The Richmond
3:34
B3
Boston Ball Game, 1967
1:44
B4
To Isengard
5:28
B5
The Clearout
2:36
Credits
Ink Studios - Artwork
Jack Bruce - Cello [Cellos]
Jack Bruce - Composed By [Music Composed By], Arranged By
John Marshall - Drums
Jon Hiseman - Drums
Andy Johns - Engineer
Chris Spedding - Guitar
Felix Pappalardi - Guitar
Jack Bruce - Guitar
L'Angelo Misterioso - Guitar
Rob Grenell - Mastered By
Jack Bruce - Organ
Ralph - Other [Got Together By]
Felix Pappalardi - Percussion
Roger Phillips - Photography By [Cover Photograph By]
Jack Bruce - Piano
Felix Pappalardi - Producer
Art Themen - Soprano Saxophone [Soprano Saxes]
Dick Heckstall-Smith - Soprano Saxophone [Soprano Saxes]
Art Themen - Tenor Saxophone [Tenor Saxes]
Dick Heckstall-Smith - Tenor Saxophone [Tenor Saxes]
John Mumford - Trombone
Harry Beckett - Trumpet
Henry Lowther - Trumpet
Felix Pappalardi - Vocals
Jack Bruce - Vocals, Bass
Pete Brown - Words By
Notes
Includes lyric insert.
"CTH" suffix in matrix numbers on labels denotes a [l403953] pressing.
Several different variations exist with suffixes that vary from CTH.
Some CTH pressing covers had a black matte paper on back cover (as opposed to blue in pictures).
Produced by arrangement with The Robert Stigwood Organization, Limited.
Released in the U.S.A. by special arrangement with Polydor Records, Ltd.
© 1969 Atlantic Recording Corporation
Printed in U.S.A.
All selections published by Casserole, BMI.
[insert] © 1969 Casserole Music Corp.
Joe Hiseman & Dick Heckstall-Smith, members of Colosseum, appear by kind permission of Dunhill Records.
Strawberry Bricks Entry:
Prior to the breakup of Cream, bassist and vocalist Jack Bruce recorded an album with guitarist John McLaughlin and Colosseum members Jon Hiseman and Dick Heckstall-Smith. Not surprisingly, it was primarily instrumental jazz and wouldn't see release for a couple of years. Bruce had started out in 1963 with Alexis Korner's Blues Incorporated, before joining the Graham Bond Organisation, with brief stints in John Mayall's Bluesbreakers and Manfred Mann. By the time Songs For A Tailor was recorded, both Cream and all of that was behind him. Teaming up once again with lyricist Pete Brown and producer Felix Pappalardi, the album offers some of his best songwriting, including the somber yet soulful "Theme From an Imaginary Western" and the well-covered "Rope Ladder to the Moon." Hiseman and Heckstall-Smith again guest, along with guitarist Chris Spedding, Henry Lowther and Art Themen. Two tracks, "Weird of Hermiston" and "The Clearout" were earmarked for Cream but didn't make the cut. Here, they're perfectly set, rounding out an album that's well suited for the time, a storming rock album with the jazz and classical influences Bruce is so well known for. Unsurprisingly, the album was a giant success, reaching No. 6 in the UK, while almost breaking the Top 50 in the US. Bruce belatedly put together a band with guitarist Larry Coryell and drummer Mitch Mitchell to tour the US in 1970, but later joined McLaughlin in The Tony Williams Lifetime for a spell. However, after a third solo album, the again excellent Harmony Row in 1971, he put his solo career on hold to join Mountain guitarist Leslie West and drummer Corky Laing in the eponymously named power trio. Bruce would enjoy a long yet (unfortunately) only moderately successful career.