Spacebrock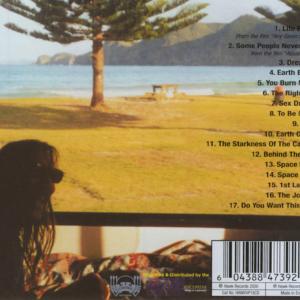 Tracklist
1
Life Form
1:42
Notes:

Dave Brock - Written-By

2
Some People Never Die
4:02
Notes:

Martin Griffin - Drums
Dave Brock - Written-By

3
Dreamers
3:40
Notes:

Richard Chadwick - Drums
Crum - Keyboards
Dave Brock - Written-By

4
Earth Breath
1:36
Notes:

Dave Brock - Written-By

5
You Burn Me Up
4:34
Notes:

Dave Brock - Written-By

6
The Right Way
0:53
Notes:

Dave Brock - Written-By

7
Sex Dreams
3:48
Notes:

Richard Jackson - Programmed By
Dave Brock - Written-By
Richard Jackson - Written-By

8
To Be Or Not
2:12
Notes:

Dave Brock - Written-By
William Shakespeare - Written-By

9
Kauai
1:35
Notes:

Dave Brock - Written-By

10
Earth Calling
3:47
Notes:

Richard Chadwick - Drums
Dave Brock - Written-By

11
The Starkness Of The Capsule
3:13
Notes:

Dave Brock - Written-By

12
Behind The Face
3:15
Notes:

Dave Brock - Written-By

13
Space Brock
4:47
Notes:

Dave Brock - Written-By

14
Space Pilots
2:01
Notes:

Richard Chadwick - Drums
Dave Brock - Written-By

15
1st Landing
1:46
Notes:

Dave Brock - Written-By
Robert Calvert - Written-By

16
The Journey
2:48
Notes:

Liquid Groove - Featuring
Alan Davey - Written-By
Dave Brock - Written-By

17
Do You Want This Body
6:34
Notes:

Capt. Natty - Vocals
Dave Brock - Written-By
Credits
Hawkman - Bass, Violin
Doctor Technical - Drums, Synthesizer
Raymond Steeg - Engineer [Assistant]
Dave Brock - Vocals, Guitar, Keyboards, Synthesizer, Sampler, Effects, Engineer, Producer
Notes
Recorded at Barkalot Farm, Devon.
Equipment:
Roland GR 50 Guitar Synth
Korg 0 1 R W
Proteus 3 World
ES1-32 Sampler
Korg M1
Alesis Quadplaverb
Alesis S R 16
Alesis M M T
E.M.S. Synthi
Boss B E 5 M Footpedal
Korg Analog Synthi + guitar & bass.
Track 15 appears as "1st Landing On Medusa" in the lyric booklet.
It has been suggested that this album is in fact a Dave Brock solo album that - for various reasons - was released as a Hawkwind album.