Tales Of Mystery And Imagination
by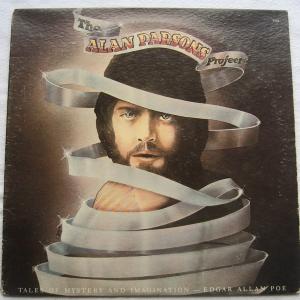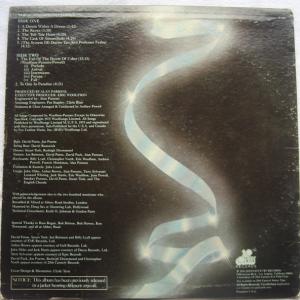 Artist:
The Alan Parsons Project
Label:
20th Century Records
Tracklist
A1
A Dream Within A Dream
3:40
A2
The Raven
4:00
A3
The Tell-Tale Heart
4:37
A4
The Cask Of Amontillado
4:27
A5
(The System Of) Doctor Tarr And Professor Fether
4:14
B2
To One In Paradise
4:29
Credits
Andrew Powell - Arranged By [Orchestra & Choir], Conductor [Orchestra & Choir], Keyboards
Joe Puerta - Bass
David Paton - Bass, Guitar, Vocals
John Leach - Cimbalom, Kantele
David Katz - Contractor [Orchestral]
Hipgnosis - Design [Cover & Frontsleeve]
George Hardie - Design [Frontsleeve]
Daryl Runswick - Double Bass [String Bass]
Burleigh Drummond - Drums
Stuart Tosh - Drums, Vocals
Chris Blair - Engineer [Assistant]
Pat Stapley - Engineer [Assistant]
David Pack - Guitar
Ian Bairnson - Guitar
Billy Lyall - Keyboards
Christopher North - Keyboards
Francis Monkman - Keyboards
Eric Woolfson - Keyboards, Vocals, Executive-Producer
Colin Elgie - Layout [Inside], Artwork [Graphics]
Doug Sax - Mastered By
Aubrey Powell - Photography By
Peter Christopherson - Photography By
Storm Thorgerson - Photography By
Alan Parsons - Producer, Engineer, Guitar, Keyboards, Vocals
Gordon Parry - Technician [Technical Consultant]
Keith O. Johnson - Technician [Technical Consultant]
Arthur Brown - Vocals
The English Chorale - Vocals
Jack Harris - Vocals
Jane Powell - Vocals
John Miles - Vocals
Leonard Whiting - Vocals
Smokey Parsons - Vocals
Terry Sylvester - Vocals
Alan Parsons - Written-By
Andrew Powell - Written-By
Eric Woolfson - Written-By
Notes
Printed in U.S.A.
The songs are based on stories written by Edgar Allan Poe.
The album was recorded and mixed at Abbey Road Studios, London, between July 1975 and January 1976
Mastered at the Mastering Lab, Hollywood, California
The Harmony Vocoder on "The Raven" was invented and built by EMI Central Research Laboratories, and is exclusively available at Abbey Road Studios
© & ℗ 1976 20th Century Records
This album has been previously Released in a jacket bearing different artwork.
Strawberry Bricks Entry:
The Alan Parsons Project was initially just that: a project built for a one-off album recorded for Charisma Records. Parsons, of course, had gained a considerable education at EMI Studios in the late 60s and early 70s, working on such classic albums as The Beatles' Abbey Road and Pink Floyd's The Dark Side Of The Moon, even earning a few Grammy Award nominations along the way; and by now, had already lent his appreciable production and engineering skills to many artists, including Pilot, Ambrosia and Al Stewart. Based on the writings of Edgar Allan Poe, Tales Of Mystery And Imagination emerged from Parsons's partnership with composer and singer Eric Woolfson. The album features a bevy of guests and orchestration from Andrew Powell. "The Raven," driven by its signature bass line and vocoder vocal, was a minor hit single in the US at No. 80, while "The Tell-Tale Heart" features Arthur Brown's distinctive vocal—always a treat on any album. The second side contains the "The Fall of the House of Usher" suite: a large scale symphonic instrumental that presents the question, "Is this rock?" The album resides in a musical space between pop and progressive rock that, like Supertramp or Electric Light Orchestra before it, offers a commercial blueprint many progressive artists would follow for the balance of the decade. The album was also a commercial success, rising to the lower reaches of the Top 40 on both sides of the Atlantic. From here, the Project signed to Arista Records and set off to MOR land (predicted here by the closer "To One in Paradise"). Continuing well into the 80s, they racked up a string of Top 20 releases along the way, beginning with the following year's I Robot.