The Tunes Of Two Cities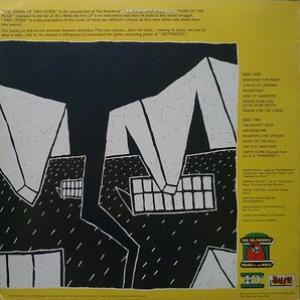 Tracklist
A1
Serenade For Missy
Notes:

Guitar - Snakefinger
Saxophone - Norman Salant

A2
A Maze Of Jigsaws
A3
Mousetrap
A4
God Of Darkness
A5
Smack Your Lips (Clap Your Teeth)
Notes:

Guitar - Snakefinger

A6
Praise For The Curse
B1
The Secret Seed
B2
Smokebeams
Notes:

Guitar - Snakefinger

B3
Mourning The Undead
B4
Song Of The Wild
B5
The Evil Disposer
B6
Happy Home (Excerpt From Act II Of "Innisfree")
Notes:

Vocals - Nessie Lessons
Credits
Artwork [Cover By] - Pore No Graphics
Written-By, Performer - Residents
Notes
First pressing with "444 Grove Street" adress on back sleeve, bottom left. It has also the "10th Anniversary" logo on the bottom right, and the mention "Special special thanks to E-Mu Systems for the fabulous Emulator" just under.
The sleeve was re-printed in 1983 with new adress, Cryptic logo, but no mention of thanks to E-Mu System: The Tunes Of Two Cities. However the disc is the same with same matrix numbers.
Sleeve notes:
"The Tunes Of Two Cities" is the second part of The Residents' Mole Trilogy which began with "Mark Of The Mole" in 1981. While the first LP is an elaborately told story of political and social struggle, "Two Cities" is a documentaion of the music of these two different cultures as they were before fate threw them into turmoil.
The tracks on this record alternate between societies. First one culture...then the other...making its point, not just by what is said...but by the listener's willingness to understand the globe wrenching power of "DIFFERENCE".