Vielleicht Bist Du Ein Clown?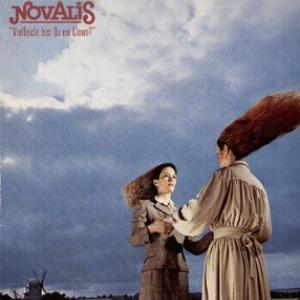 Tracklist
A1
Der Geigenspieler
8:14
A2
Zingaresca
5:12
A3
Manchmal Fällt Der Regen
3:50
B1
Vielleicht Bist Du Ein Clown?
6:22
B2
City-Nord
6:07
B3
Die Welt Wird Alt Und Wieder Jung
4:30
Credits
Bass, Vocals - Heino Schünzel
Drums, Percussion, Bass Drum - Hartwig Biereichel
Engineer - Thomas Kukuck
Guitar, Acoustic Guitar, Guitar [Slide], Vocals - Detlef Job
Organ [Hammond], Piano, Electric Piano, Strings, Mellotron, Synthesizer [Ppg], Clavinet - Lutz Rahn
Producer - Achim Reichel
Vocals, Guitar, Acoustic Guitar, Acoustic Guitar [12 String], Flute - Fred Mühlböck
Notes
Recorded at Rüssl Studio Hamburg, September 1978.
Includes lyric insert.
Strawberry Bricks Entry:
By 1978, Novalis was one of Germany's most successful rock bands, both in record sales and concert attendance, with only the Scorpions outselling the band. Thus, the quintet was able to leave their day jobs behind to work full-time as musicians. Their next album, Vielleicht Du Bist Ein Clown? ("perhaps you are a clown?") was also produced by Achim Reichel and saw release on the Brain label. It again displays their penchant for elegant, romantic rock music. "Der Geigenspieler" opens the album, offering the band's symphonic and epic songwriting, with a potently electric instrumental break in the middle. The instrumental "Zingaresca" offers a rather harder edge, courtesy of Detlef Job's angular guitar and Hartwig Biereichel's feisty rhythm with guest percussionist Tommy Goldschmidt. The title track again furthers the band's symphonic sound, here punctuated by Lutz Rahn's incessant piano and a strong vocal from Fred Mühlböck. "City Nord" sees Rahn return to his classic organ tones, a welcome reminder of their progressive roots. Released during an extensive tour of Germany, the album again proved successful. The band then moved to Reichel's Ahorn label, setup specifically for German-language rock music: "Ahorn die Marke für Rock in deutsch" ("Ahorn the mark for Rock in German"). With their 1979 concept album about whaling, Flossenengel ("Finned Angel"), Novalis did something extraordinary: The band donated 20,000 DM from their advance to the World Wildlife Fund. The band would then skirt the Neue Deutsche Welle and, as the Freeman brothers assert in their encyclopedic The Crack in the Cosmic Egg book, "go on about five years too long;" Anyway, Biereichel, Job and Rahn would carry on with varying lineups (including bassist Heinz Fröhling) until the mid-80s.