Vision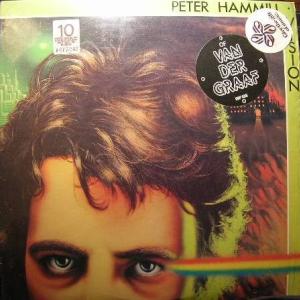 Tracklist
A1
Imperial Zeppelin
Notes:

Judge Smith - Written-By

A2
(No More) The Sub-Mariner
A3
Modern
A4
Dropping The Torch
A5
Vision
B1
Sunshine
B2
Nadir's Big Chance
B3
The Institute Of Mental Health (Burning)
Notes:

Judge Smith - Written-By

B4
The Comet, The Course, The Tail
B5
In The End
Credits
Kevin Combs - Artwork By [Front Cover Art]
Phillip Page - Concept By
Joe Hosey - Design, Layout
Murray Brenman - Design, Layout
Gordian Troeller - Other [Gordianisation]
Robin Schwartz - Photography By [Back Cover Photo]
Peter Hammill - Written-By, Concept By, Design, Layout
Notes
Licensed by Charisma Records.
The back cover contains an untitled poem by PH ("The aspects of vision are many...), written in 1977 and not published elsewhere.
Includes printed inner/lyric sleeve
Tracks (C)1971 (A1,A5,B1), (C)1973 (A4,B5), (C)1974 (A2,A3,B4), (C)1975 (B2,B3)
"Printed in USA" (back cover) / "MADE IN U.S.A. (on labels).