Vital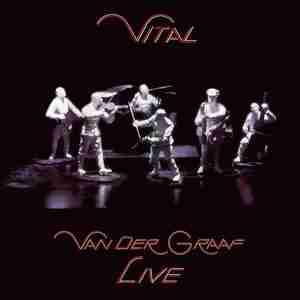 Artist:
Van Der Graaf Generator
Tracklist
A1
Ship Of Fools
6:43
A2
Still Life
9:42
A3
Last Frame
9:02
B1
Mirror Images
5:50
B2.1
A Plague Of The Lighthouse Keepers
B2.2
The Sleepwalkers
C1
Pioneers Over C
17:00
C2
Sci-Finance
6:25
D1
Door
6:00
D2.1
Urban (Part 1)
D2.2
Killer (Section)
D2.3
Urban (Part 2)
D3
Nadir's Big Chance
3:40
Credits
Bass - Nic Potter
Cello, Electric Piano, Synthesizer - Chas Dickie
Drums, Producer - Guy Evans
Engineer - Dave Anderson
Engineer [Recording] - Mike Dunne
Saxophone [Saxophones], Flute - David Jackson
Violin - Graham Smith
Vocals, Guitar, Piano, Producer [Existential] - Peter Hammill
Notes
Recorded live at the Marquee Club, London, January 16th 1978.
Mixed at Foel Studio, Llanfair Caereinion, Powys, Wales.
All songs written by Peter Hammill except C1 written by Peter Hammill/David Jackson and D2.2 written by Peter Hammill/Graham Smith.
No overdubs have been employed in this recording.
(p) & (c) 1978 Suki Films ltd.
Strawberry Bricks Entry:
Van der Graaf ended their penultimate tour with two nights in early January at London's Marquee Club. The band was now a five-piece: the same quartet that recorded the previous year's The Quiet Zone/The Pleasure Zone, plus Charles Dickie on cello. Offering more of the chaos and less of the control that defined the band's prior efforts, the recordings formed the basis of this, the final installment from VdG. "Ship of Fools" sets the tone with Peter Hammill on electric guitar, and there's nothing subtle here; he's got as much grace as a steamroller. "Still Life" follows and literally explodes, with Guy Evans's drumming mixed high on the right channel and Nic Potter's overdriven bass on the left. Gone are the delicacies of Hugh Banton and David Jackson (though the latter makes a guest appearance); rather, this record goes for the full-frontal assault. If you get through Graham Smith's screeching intro, "Last Frame" is one of the more successful translations on the album. The same isn't always true for the older VdGG material, though "Pioneers Over C" holds together well. The double-album even contains some new material; well-suited for the quintet, it's about as raw as Hammill's music would ever get. "Door" spins out of control underneath Evans's ever-increasing tempo, while "Urban" reprises a bit of "Killer." Fittingly, the punk "Nadir's Big Chance" closes the show. The album was mixed the following month at Foel Studio and given to Charisma Records in the hope that it would balance the band's finances with the label. But by the time of its release, Hammill had already kicked himself into solo gear; his next record already completed, he had begun touring the UK (and later the following year in the US) with Smith. Therefore, Vital remains Van der Graaf Generator's swan song, warts and all.