Köhntarkösz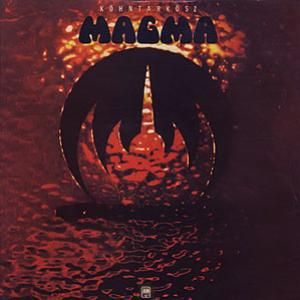 Tracklist
A1
Köhntarkösz (Part One)
15:24
A2
Ork Alarm
5:27
B1
Köhntarkösz (Part Two)
15:59
B2
Coltrane Sündïa
4:11
Credits
Artwork By - Fabio Nicoli
Bass, Cello, Vocals, Piano - Jannick Top
Drums, Vocals, Piano, Percussion - Christian Vander
Engineer [Recording] - Simon Heyworth
Guitar - Brian Godding
Photography - Malcolm Robertson
Piano, Clavinet - Michel Graillier
Piano, Organ [Yamaha] - Gérard Bikialo
Producer - Giorgio Gomelsky
Vocals - Stella Vander
Vocals, Percussion - Klaus Blasquiz
Notes
Recorded on the Manor Mobile at "Bastide de Pierrefeu", Valbonne.
Strawberry Bricks Entry:
With the Theusz Hamtaahk trilogy complete, Christian Vander here offers the second part of a new trilogy, Köhntarkösz. Once again filled with Magma's dramatic music, the album Köhntarkösz is mostly comprised of the two parts of its title track. "Part One" is built around a relatively simple refrain, pounded into several mutations over the course of the album side. Much of Magma's sonic enormity from the previous record is replaced with sparser musical arrangements and a great use of space. Both the new dual keyboard approach and refinement of the vocals render the work much easier on the ears. But the powerful rhythm of Vander and bassist Jannick Top is still front and center, and the premise is still the same; yet here Magma's dark and foreboding muse doesn't suffer from claustrophobia, and ultimately it's far more rewarding. Penned by Top, the short "Ork Alarm" closes the side, grinding under his sawing cello and mega-bass. It's a perfect example of the direction his solo work would take. "Part Two" immediately comes across as lighter and more melodic, built around the hypnotic playing of keyboardists Gerard Bikialo on organ and Michel Graillier on electric piano, but after the former adds a ripping solo, the track descends into more familiar chaos, which of course rises to a frenetic crescendo, vocalist Klaus Blasquiz in perfect form. The album winds down with the calming tribute "Coltrane Sündïa" (which translates from Kobaïan to "Coltrane Rest in Peace"). The album, recorded with The Manor Mobile's Simon Heyworth engineering and ex-Blossom Toes Brian Godding on guitar, again saw release on A&M Records. Magma would then undertake a short tour of the UK following the album's release.