Portable Madness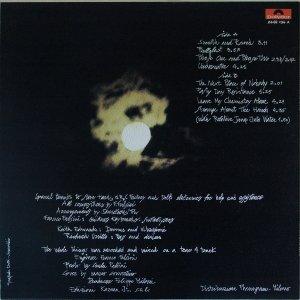 Tracklist
A1
Smooth And Round
A2
Fullgast
A3
Phase One And Phase Two
A4
Underwater
B1
The Next Place Of Nobody
B2
Pasty Day Resistance
B3
Leave My Chemistry Alone
B4
Strange About The Hands
B5
With Relative Jump Into Water
Credits
Arranged By [Arrangements By] – Sensations' Fix
Bass, Effects [Devices] – Richard Ursillo
Composed By [All Compositions By] – F. Falsini*
Cover – Mario Convertino
Drums, Vibraphone – Keith Edwards
Guitar [Guitars], Keyboards, Synthesizer [Synthesizers], Engineer – Franco Falsini
Photography By [Photo By] – Carla Pallini
Producer – Filippo Milani
Notes
Edizioni Karma It. S.R.L.
Strawberry Bricks Entry:
Hailing from Florence, Sensations' Fix was really a front for Franco Falsini; in addition to playing guitar and keyboards, he also wrote and produced most of the band's music in-wait for it-Virginia. Joining him were two Americans: bassist Richard Ursillo, previously with Campo di Marte, and drummer Keith Edwards. Their debut album, Fragments Of Light, was released in 1974 on Polydor, and is certainly the most un-Italian of all the progressive rock to come out of Italy. While comparisons to Germany's krautrock may be in order-the album does rely heavily on electronics-the connection is tenuous at best. Portable Madness also appeared in 1974, revealing a darker edge, and is somewhat akin to Heldon's contemporaneous offerings. The sinister demeanor of "Smooth and Round" opens the album, before segueing directly into the angular guitar riff of "Fullglast." Halfway through, after a somewhat awkward transition, Falsini's keyboards take over and the track goes symphonic. The band gets heavy on "Phase One And Phase Two;" and the guitar/keyboard unison continues through to the closing "Underwater," which features one rubbery bass from Ursillo. After a synthesizer introduction, that same frenetic rhythm continues on "Pasty Day Resistance" while "Leave My Chemistry Alone" again reveals an ominous outlook. There's a uniformity to the music, with the vigorous rhythm always driving the melodic compositions forward. Unfortunately, the album suffers from lo-fi production—or maybe it's just a poor pressing? The soundtrack Nasso Freddo ("Cold Nose"), a solo album from Falsini, was released by Polydor in 1975. It's an album of (mostly) electronic keyboard works; and although it's like other similar albums of the era, Falsini's murky edge sets it apart. In 1976, the band added keyboardist Stephen Head and introduced vocals to their music, releasing the Finest Finger album. It's not that much of a departure, yet enjoys better production than previous efforts. A couple more albums appeared, including one for the US All Ears label in 1977; but disappointingly, all steered towards more conventional rock. After moving to the US in the late 70s, the band would change their name to Sheriff, releasing an album of pedestrian rock in 1979.