Welcome Back My Friends To The Show That Never Ends - Ladies And Gentlemen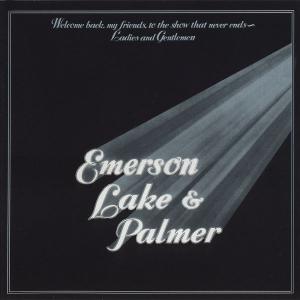 Artist:
Emerson, Lake & Palmer
Tracklist
A1
Hoedown (Taken From Rodeo)
A2
Jerusalem
A3
Toccata (An Adaption Of Ginastera's 1st Piano Concerto, 4th Movement)
B1
1. Eruption
B2
2. Stones Of Years
B3
3. Iconoclast
B4
4. Mass
B5
5. Manticore
B6
6. Battlefield (Including Epitaph)
C1
7. Aquatarkus (Conclusion)
C2
Take A Pebble (Including Still... You Turn Me On And Lucky Man)
D1
Piano Improvisations (Including Friedrich Gulda's 'Fugue' And Joe Sullivan's 'Little Rock Getaway')
D2
Take A Pebble (Conclusion)
D3
Jeremy Bender / The Sheriff (Medley)
E
Karn Evil 9 (1st Impression)
F
Karn Evil 9 (2nd And 3rd Impression)
Credits
Arranged By - Emerson, Lake & Palmer
Arranged By - Keith Emerson
Engineer - Andy Hendriksen
Engineer - Peter Granet
Producer - Greg Lake
Notes
Recorded live on Emerson, Lake & Palmer's 1973-74 World Tour.
Track E includes percussion solo.
Packaged in folded three-leaf jacket.